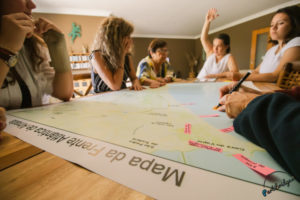 Co-construction Process by the Portuguese Team
The NOVA University of Lisbon and the Association Ala-Ala have actively developed their co-construction module which is one of the Partibridges Project outputs. By highlighting youth participation and coastal environment, the Portuguese Team have designed their local module with a title: "Greenspaces turn blue: Youth Participation on the Coastal and Marine Spatial Planning"
The module is aimed at strengthening youth participation in promoting the sustainable development of the coastal zone by adopting participatory actions and enhancing collaborative governance processes. It is believed that the whole process of youth participation contributes to the local knowledge diversity.
Through emancipatory pedagogy and collaborative methodology, the module will include various stakeholders with different coastal knowledge backgrounds such as teachers, researchers, master students, fishermen, technicians, and residents of the local coastal zone.
Series of meeting had been conducted by the whole team in order to elaborate the final syllabus, which yielded in the module's structure. Beyond the syllabus, the team is also developing a critical collective map of the Almada's oceanic coastal area, as well as a Critical Ethnographic Manifesto.
These two maps are to be used by a large number of users from universities, stakeholders, decision-making institutions, technicians, fishermen and all civil society and local residents.